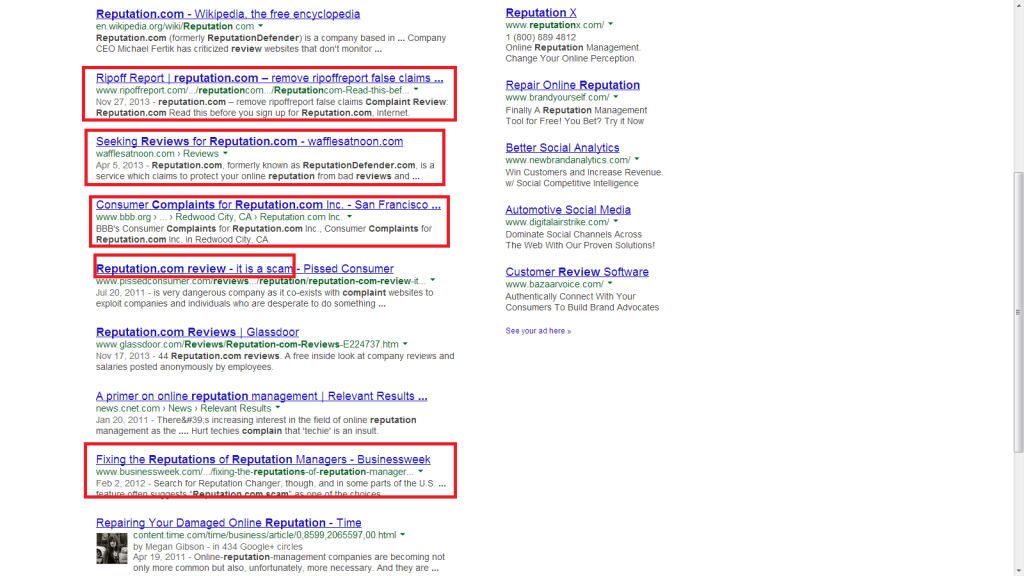 Our reputations on the internet have grown from a minor issue to something that can bar us from receiving the opportunities we truly deserve. What was once a realm of total anonymity unless you otherwise offered information, many websites today require your real name or some other type of identifying information. As a result, it's become increasingly easier for your character or business to be trash-talked by those with negative experiences or those with an unknown vendetta.
The Cost of a Positive Image – Reputation.com Pricing
If that's not reason enough to be careful about your information and how it's displayed on the internet, you can check out the list below (admittedly basic) that tells you about some of the ways your personal information about you, your family, or your business can come back to bite you in ways you didn't expect it to.
Employers often seek public information about applicants these days.
Your public photos can be viewed.
Your public opinions can be read.
Other people with the same name might be mixed up with you if there aren't clearly identifying features. This was the story behind Brandyourself.com starting.
Those with bad experiences can now publicly post their opinions on either you or your business. 
Popular sites like Ripoffreport.com, Scam.com, Pissedconsumer.com, and Yelp.com are growing in popularity.
False information may be posted online that gets rocketed to the top of search results.
Your reputation and web presence may be damaged simply because someone feels the need to spread stories of their experiences that are probably not entirely accurate.
Sometimes, people just don't make the effort to generate positive reviews of a service or individual, simply figuring that someone else stepped up to the plate or it's not needed. The quiet positives are often muted by the loud negatives.
• Hackers may compromise your identity:
Our society has transferred to the internet rapidly, and this is no exception. With so many personal details being posted on the internet now, it's become easier for criminals
to steal information or 'speak in your name' when in fact they're sabotaging your online presence.
People with grudges may post extremely personal information like public addresses, phone numbers, credit card information, or individualized ID (such as a social security
number). This can quite easily be preyed upon by thieves and identity scrapers.
The Basics of Reputation.com Pricing
Competition is a great thing. It drives us to provide a better service while maintaining our ability to generate adequate profits which may require innovation or a different approach to common issues. Unfortunately people are complaining that they are not getting what they pay for at Reputation.com due to their big size and non boutique approach which we will explain momentarily. A problem that commonly plagues large companies that need to deliver an individualized approach to achieve the results that reputation management clients want. There is NO cookie cutter approach to solving a reputational issue. Each and every client needs a personalized approach that is never delivered by reputation.com to their clients. How do we know this? Well after dealing with over 200 clients that have worked with Reputation.com in the past and by their words "I have been burned by reputation.com they did nothing for me and gave me the run around for over a year and won't refund my money."
Their pricing is based on basic packages that create Web 2.0 properties and interlinking them for $3,000 and up. Some campaigns can go as high as $100,000 but it's important to note that managing your clients expectations and being realistic with what it's going to take should be the first thing you do for a client.
Reputation.com Alternatives & Competitors
One of the biggest workhorses in the reputation business is Reputation.com. By having a look at their website, you can see why. They have pieced together an excellent amount of funding according to their Crunchbase profile. The PR department has done an excellent job of getting them out on the radio via Howard Stern and NPR, television ads, and PR pieces online. However, if you Google Reputation.com Complaints or Reputation.com Reviews and the results as you can see from clicking the result below has numerous complaints from Wafflesatnoon.com, Ripoffreport.com, Pissedconsumer.com, a writeup from Business Week about fixing the image of reputation managers focusing on CEO Michael Fertik who says that they don't  have the money to spend on fixing their image but yet have over 40 million dollars in funding.
With that said, Reputation.com does have a basic line-up of services. By using their services, you will fall into one of three categories: Personal, Small Business, or Enterprise. It's straight forward, it's simple, it doesn't really work according to the reviews online. The alternative services offer services to change the google autocomplete results and some DIY services such as Brand Yourself offers you the opportunity to handle it all by yourself.
How Nu Profile Changes It Up
If it works, what's there to change? No doubt, you are reading this to find out what makes NuProfile.com a better choice than Reputation.com, and rather than bore you with the technical details we'll just hand you the truth on a pretty cool silver platter. If you investigated our competitor above, you'll notice a small detail that can make all the difference in something as complicated as personalized reputation on the internet.
Reputation.com does not offer a 'boutique' service, which gets you a conference call with an engineer at the end of every week and lets you specify what kind of search results you'd like to see on Google. For those not in the know, boutique is meant to imply a specialized service that rises above the rest with how unique it is, but aren't these services supposed to be a given in something as mercurial as your identity?
That's what we think. By using NuProfile, you are guaranteed an absolutely incredible service that sees you dealing with the same people throughout the entire process rather than a voice behind a machine that may or may not know anything about you. Protecting your reputation is a science, but we see it as a personal science and we strive to know our clients and, furthermore, developing a lasting relationship that sees you on your way to a carefully maintained web presence that is filled with positives rather
than negatives. Oh and did we mention a 100% money back guarantee that if the job doesn't get done you don't get charged? No other competitor offers that.
Why deal with a cold mechanical layout for something so important when you can have the guarantee of a warm personal touch?